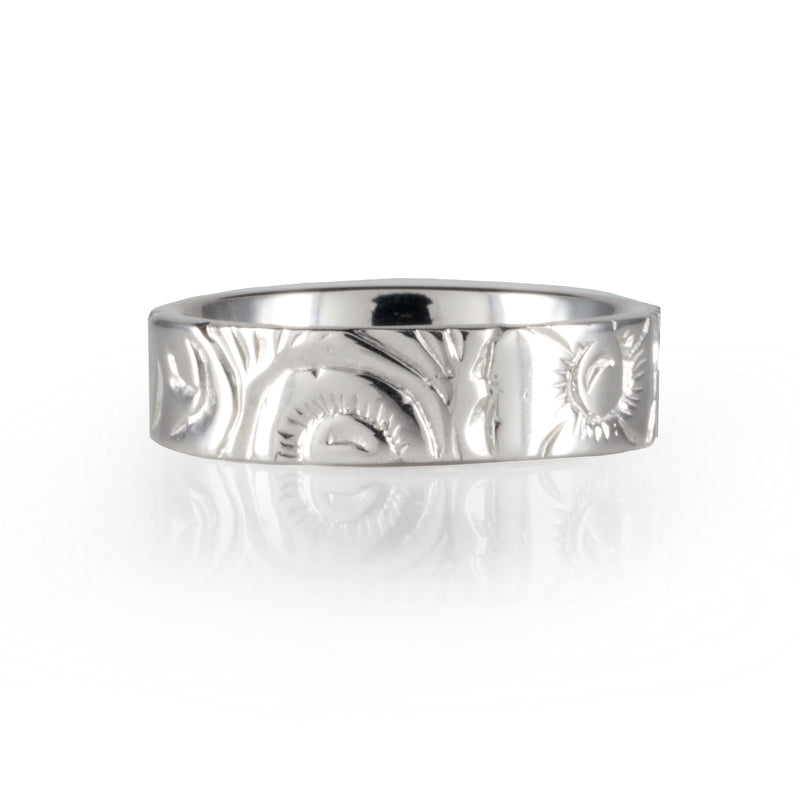 These beautiful bands are made in a Victorian style with carved/chased floral pattern around the band.  These are Hallmarked items and are manufactured here in the UK.
Want some diamonds set in it? Why not ask! Most things are possible.
Please see other listings for Yellow or White Gold.
All widths available: 2mm, 2.5mm, 3mm, 4mm, 5mm, 6mm, 7mm +
Key Points about this item:
•  Hallmarked and made in the UK
•  6mm Width
•  Deeper wall at 2.1mm
•  Flat outside profile
•  Court/Rounded Comfort inside profile
•  Manufactured made-to-order in your finger size with a lead time of6-8 weeks.
•  Your choice of Polished or Satin (matte) finish
•  Other listings available for Yellow or Rose Gold
•  Made from a high Palladium content white gold requiring no Rhodium Plating!

•  Condition: New Manufacture
What we love about this piece:
♡  These wedding bands are made from a thick 2mm gauge
♡  A historically accurate Victorian style band 
♡  Can be made in other widths
♡  Contemporary Flat outside profile with rounded (court) comfort inside
♡  Brand new so no previous wear to worry about
♡  Can always be resized in the future if necessary (may alter pattern)
Click here to see our guide to Wedding Bands