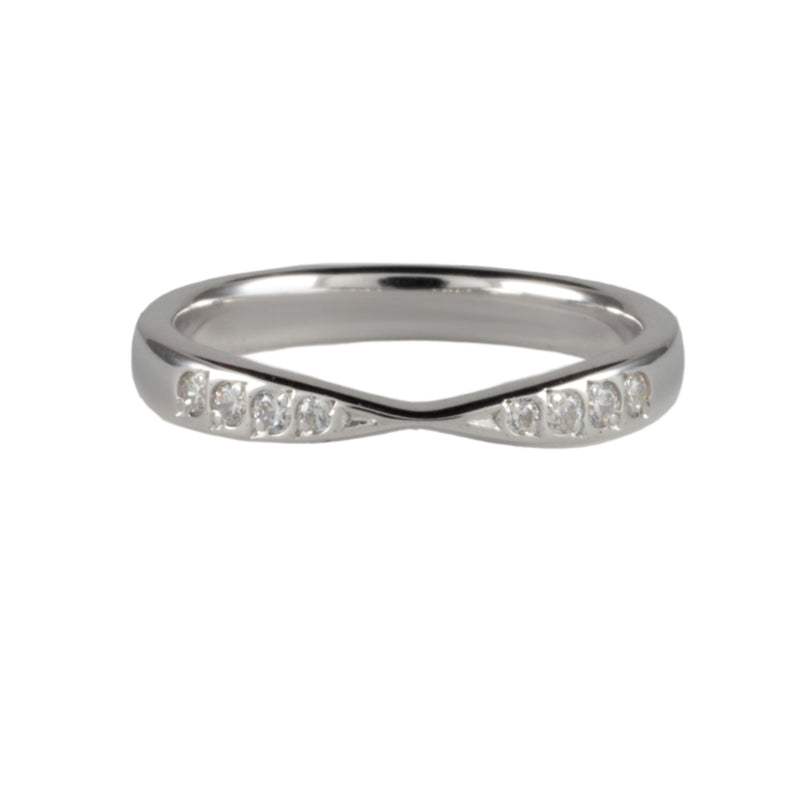 Ruben König Jewellery presents this 'Pinched' or 'Bow tie' style ring. It features 4 Round Brilliant cut Diamonds either side set in a 'spitch' or grain fashion. The shape of this ring means that it will fit perfectly with some engagement rings that require some space under the centre stone.

Please note this is a made to order item. Typically this item takes us about 4-6 weeks to make. However, please let me know your deadline and I can work to this instead.

Please read the whole description to help you get a better understanding of this fantastic piece.

Made to order in any metal type, please select from the drop down menus. If you'd like more or less diamonds please just get in touch.

Key Points about this item:

•  Made to Order in your finger size (4-6 weeks) and metal choice
•  Manufactured & Hallmarked here in the UK
•  Other markings: Makers Mark, Assay office location marking & Date letter stamp.
•  Profile: Flat with softened edges
•  Dimensions: 3.0mm average
•  Height/wall thickness: 1.6mm average
   - Stone colour: F/G (colourless face up)
   - Stone clarity: VS (very clean stone)
   - Stone Carat weight: 0.15ct total
   - Setting Distance: 33%
•  Setting type: Individual Rub Over settings with spitched in stones
•  Condition: New Manufacture
•  Finish: Polished
What we love about this piece:
♡  Beautiful, bright 'VS' quality Diamonds
♡  Hand set gemstones

♡  A 'Bow tie' design means it will fit with engagement rings that require a dip in the centre.

♡  Brand new so no previous wear to worry about
♡  Can always be resized up or down a bit in the future
Click here to see our guide to Diamonds

Click here to see our 'Online Jewellery Buying Guide'