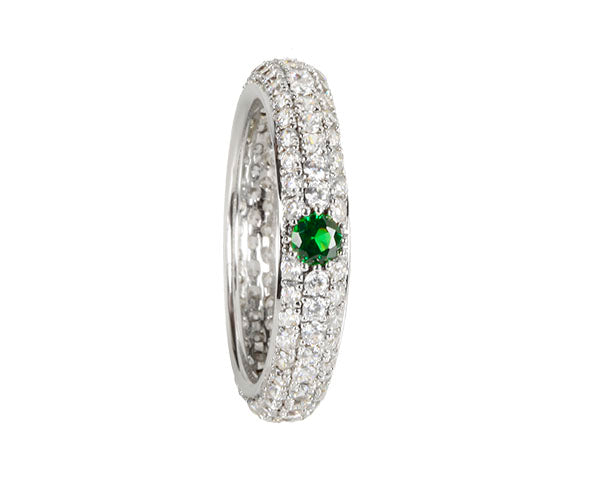 This Occaisonal ring is made from Sterling Silver and fully set with colourless CZ's. There is one Green synthetic Spinel set into the band too. Available in a few different sizes and suitable for stacking with similar rings, it is not advised to wear this ring next to other jewellery.

Please read the whole description to help you get a better understanding of this fantastic piece.

Key Points about this item:
•  Metal: Sterling Silver
•  Gemstones: CZ's (Cubic Zirconia) and Synthetic Spinel - Green.
•  Setting: Fully Pavé set
•  Profile: 'D'
•  Dimensions: 4mm wide approx
•  Height/wall thickness: Average thickness of 2.5mm
•  Weight: 2.7g approx.
•  Age of piece: New
•  Overall condition: New Manufacture
•  Finish: Polished
What we love about this piece:
♡   Fully set with CZ's, very bright!
♡   Can be stacked with the same style of ring

♡   Looks the part without costing the earth

♡  A beautiful timeless design

Click here for more information on Platinum

Click here to see our 'Online Jewellery Buying Guide'