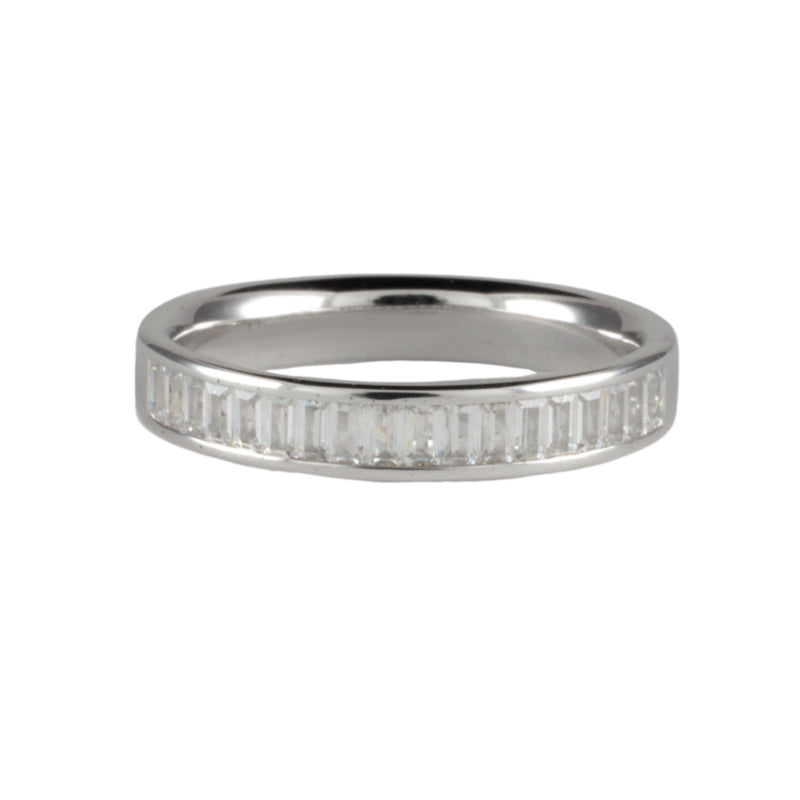 This ring has Diamonds set just over a third of the way round (depending on finger size). Features a total diamond carat weight of 0.35ct, over a third of a Carat total weight. These stones have all been set by hand which is advantageous compared to mass produced pieces where the stones may be set in the casting process. A nice solid piece, made to last for generations. We use a top colour and VS clarity to ensure nice bright stones with excellent return of light.

Please enquire if your metal type or finger size is not listed.
- Metal: Platinum 950
- Other markings: Makers Mark & UK Hallmark
- Profile: Flat Band
- Dimensions: 3.6mm Wide Band
- Made to order in your finger size
- Stone Distance: fraction over one third set 35%
- Stone Type: Natural Diamonds
- Stone Cut: Baguette/Step cut
- Stone colour: D/E (top colourless spectrum)
- Stone clarity: VS (very clean stones)
- Total Carat Weight: 0.56ct
- Setting type: Channel
- Age of piece: New
- Overall condition: New Manufacture
- Finish: Polished
About this metal type:
950 Platinum // Always regarded the most superior metal, it is hard wearing and 95% pure. Platinum has experienced a fall in price lately which means it is excellent time to buy! It is very pure 950 parts per 1000. Platinum is a White metal (similar in colour to Rhodium and Palladium) and is the best option if you want a whiter metal. Platinum is a dense material, meaning that if you had the same ring in Palladium and Platinum, the Platinum one would be much heavier (nearly twice the weight). I recommend Platinum as the ideal metal for wedding and engagement rings.